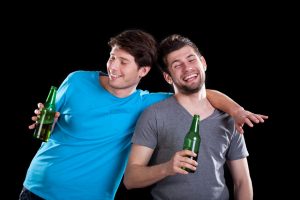 If you're not ready to take the party home, it's wise to make sure that you don't linger in the streets too long if you're intoxicated. If you get caught intoxicated in public, you may find yourself charged under Tahlequah, Oklahoma public intoxication laws.
Thus, if you've been charged with public intoxication, contact an experienced Tahlequah attorney for a free consultation.
Understanding Oklahoma Public Intoxication Laws
Oklahoma law prohibits the consumption of alcohol or any other intoxicating substance in a public place.
This is different from driving while intoxicated, because you're not required to be in a car or driving to be charged with violating Oklahoma public intoxication laws. It is enough that you are on a sidewalk, for example.
Therefore, it is also prohibited to be drunk or intoxicated on any public or private road, on any form of public transportation, or at any public gathering.
It is also a crime to disturb the peace because you are drunk or intoxicated from drugs or alcohol.
Penalties For Violating Oklahoma Public Intoxication Laws
Public intoxication is usually a misdemeanor in Tahlequah.
If convicted, a defendant will be required to pay a fine between $10 and $100 and can also spend up to 30 days in jail. Okla. Stat. tit. 37 § 8
The state punishes underaged drinkers more strictly; they may also be charged with a misdemeanor, but will be fined up to $300 and ordered to perform up to 30 hours of community service in addition to jail time.
Penalties may increase if an underaged drinker is caught multiple times.
Free Consultation: Tahlequah Misdemeanor Defense Lawyer
Public intoxication can go from a minor offense to a crime leading to weeks behind bars and hundreds of dollars in fines.
Consult with an experienced Tahlequah misdemeanor defense lawyer from Wirth Law Office. Simply call 918- 458-2677 or toll free at 1-888-447-7262.
Or, if you prefer e-mail, you may enter a legal question in the form at the top right of this page and we'll contact you by e-mail as soon as possible.